If you are interested in the desalination process and want to know all its applications and benefits, you are in the right place. Remember that you have at your disposal the previous blog post "Can desalination be the solution to the global water crisis?". With everything, you need to know about the subject.
We ended the previous article with a brief conclusion on the rise of these plants. After analyzing different data, we can establish that worldwide, currently more than 200 million  m3/día of water are desalinated and reused, a figure that underlines the importance of this technique to guarantee water resources around the planet.
Likewise, analysing its applications, we highlight different main trends in its use. Desalination of industrial water has increased by around 20% in recent years thanks to its use in the following industries:
Petroleum
Gas
Mining
Electronics
In fact, there are studies that corroborate that approximately half of all desalination plants produce water for the industrial sectors. Although it should be noted that the municipal sector is undoubtedly the largest user of this service.
Therefore, it is considered that the main uses of desalinated water are the following groups:
Municipal services (human consumption)
Industrial services (In the sectors mentioned above)
Irrigation services
Energy services
We know that pictures are worth a thousand words, here you have a world map with the consumption of desalinated water and its applications.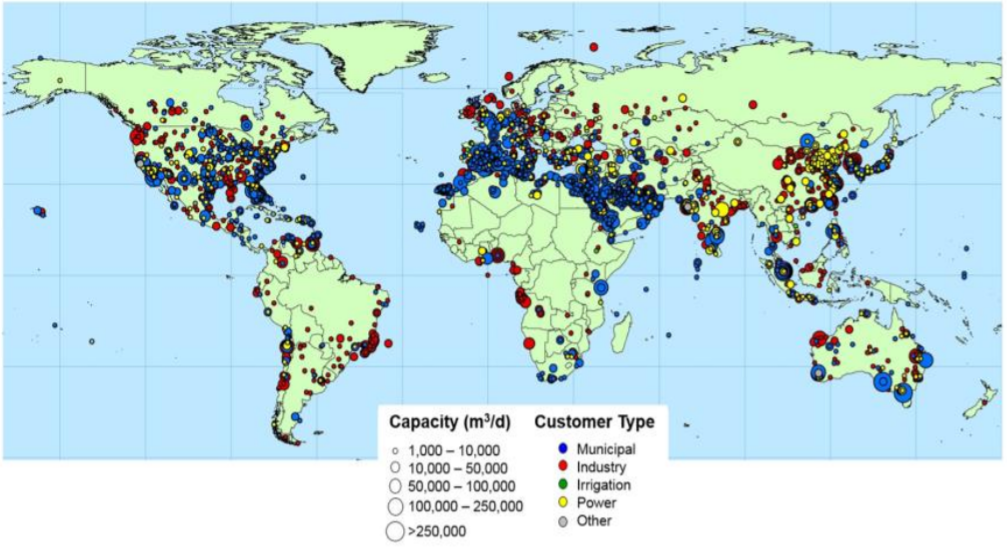 Climate change and drought have affected large regions of the world. This water shortage has led to an abrupt need to seek environmentally friendly solutions.
Mining needs alternatives
The mining sector has been one of the hardest hit due to the severe water shortages that directly affect its drilling processes. Companies in this sector have been forced to find solutions to meet the demand for water. Desalination has been an alternative with a clear positive impact, serving as a replacement for inland water and aquifers in critical conditions.
Given the situation in many places, access to water was becoming a problem to be solved. This technique has proved to be a relief for areas with limited resources and has provided an opportunity for the sector to grow steadily. This new technology based on reverse osmosis is considered cost-effective and offers a more viable form of production.
Desalination allows the incorporation of a new source of water supply of optimum quality with the security and sustainability of a service independent of meteorological variations.
In addition to mining, the agricultural sector has also been affected by climate change. The demand for desalinated seawater for irrigation has increased dramatically. This has brought various advantages to the sector; such as a guaranteed resource and reducing the uncertainty of water availability at the time needed for cultivation.
Desalinated water: Benefits for you and the environment
Increased water availability. It provides clean, fresh drinking water to people who have no access to it and to resource-constrained sectors such as the agricultural industry.
Recovery and beneficial use of water with contamination problems. The water quality is safe, going through different quality procedures and professional certifications. It also contributes to habitat protection.
Increased water availability during periods of drought. Preservation of existing water supplies.
Decrease in the need to import water due to the development of alternative local sources.
Diversification and increased reliability and flexibility of operation of water availability from sources. Improved drinking water quality.
Protection of public health. Protection of public health. It uses proven and effective technology that will not endanger the health of the population.
Facilities for greater reuse of wastewater and encourage the recycling of wastewater. Decrease in the salinity of water for agricultural irrigation.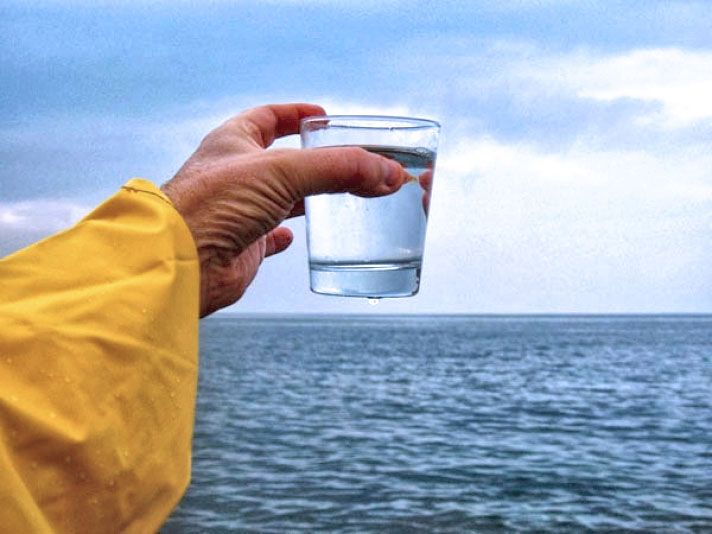 This technique is becoming the benchmark technology given the number of advantages it offers. Providing solutions through a correct regulation of supplies that guarantees quality and allows the optimisation of its management together with other water resources.
At FREEZE CAST we have been working for the desalination sector for years, providing hydraulic parts of the highest quality to contribute to the optimum development of this booming industry.