Lucio is an institution at FREEZE CAST, with more than 37 years on the payroll. He's retiring next July, so we decided to devote this interview to him as small tribute.
What department do you belong to, Lucio?
I work in the Ceramic Moulding section, as head of department.
What tasks do you carry out in the company, what exactly do you do?
It's my responsibility to coordinate the moulding section, keep an eye on the quality of moulds produced and to make sure that the necessary raw materials are available for ceramic moulding at all times.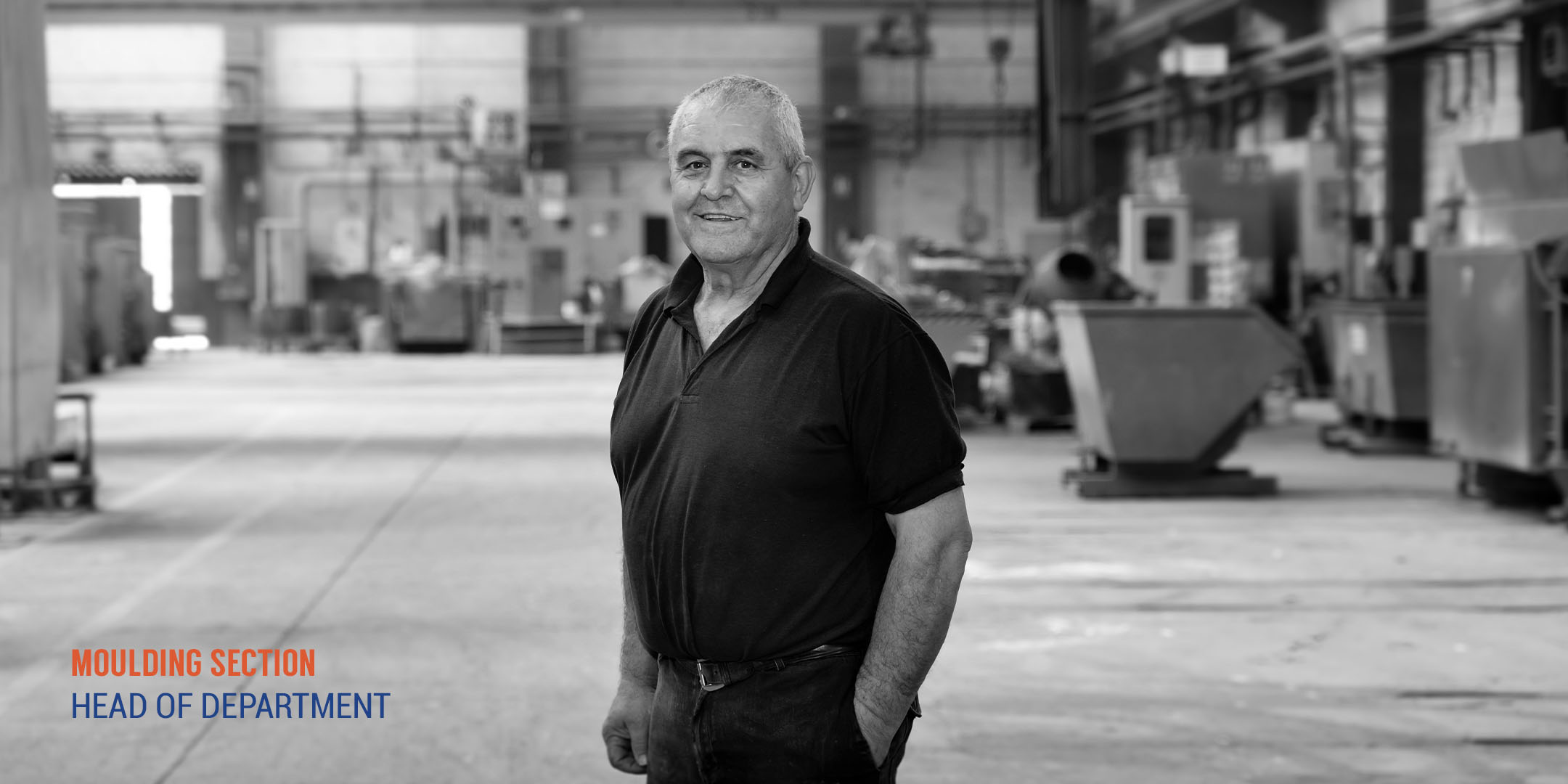 When did you first join the team?
In April, 1984, just a year after the company was founded –at that time it was called Fundiciones Yrigoyen– in one of the first drives to hire operators. And I've been a permanent fixture in the company since that July. At that time, there were only 7 or 8 people at the factory and a little more than a dozen in total.
FREEZE CAST has changed a lot. What has been your experience of this evolution, from a very small business to a company that exports around the world?
The change has been enormous, from Fundiciones Yrigoyen, changing first to FYSA and finally becoming FREEZE CAST. Remember that in the beginning, we made a couple of pieces a day and the first owner, who was American, became very emotional if everything turned out well, he lived the experience very deeply. Later on, it was 40 or 50 pieces. How we began was nothing like what we do now, technological innovation and the introduction of new machinery have meant that the company is in constant evolution and growth; as it happens, only yesterday we had a visit to introduce a load elevation system for large-scale pieces.
When did you decide to devote yourself to the world of die casting?
It was a casual beginning, a job offer that turned up and I was accepted. Since then, I have tried to fulfil my duties. In addition, I have felt comfortable and we've got on really well, with complete trust between us. Especially with the leaders, who, in my opinion, have always shown, and still show, great human and professional qualities. I hope they think the same about me (laughter).
Could you tell us about your career path in the company? After more than 40 years, you must have plenty of anecdotes to share.
I began as a specialist apprentice, I rose to 2nd journeyman and later to 1st journeyman, until I eventually became head of department. I've gone on learning, growing and evolving over all these years.
Anecdotes? Right now, I can't think of any specific ones, but there's no doubt I've been through a lot of good experiences with my workmates.
What has the day-to-day experience been like in Freeze Cast? At that time, did you think you'd spend your whole life at the company?
To be honest, I never thought about it, but I was happy day-to-day, the bosses were good and I grew to like it. And when you always try to contribute what you know and think, to do things better, you become specialised. Now people are always reminding me, "Lucio, you've got three months left, two months left…" to be honest, it'll make me a bit sad, but it's been a fantastic career and I'm happy.
What advice would you give to the new generations joining the company?
In the end, you always reap what you sow. And your own satisfaction is also important, to feel that your work is something of your own, and to be happy with what you do. It's also important to place yourselves in the shoes of your bosses, your workmates and your team, because it helps you understand them, to learn and move forward.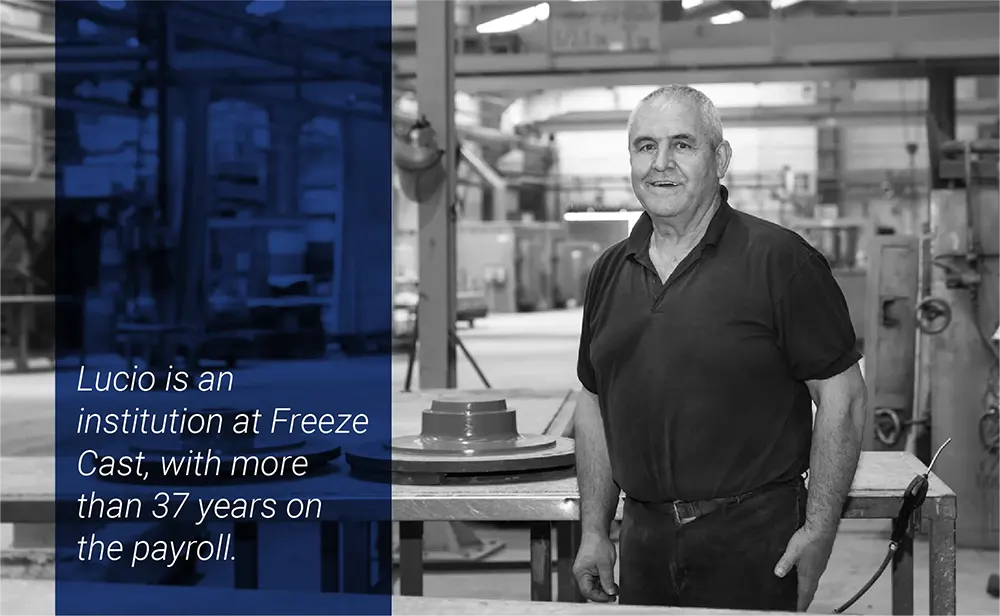 You have (and you have had) many workmates throughout your career in the company… How important have personal and human relationships with them been in the day-to-day running of the workplace?
I've had many workmates for many years and I have great memories of everyone. And as an Andalusian workmate, who was very friendly and a bit of a joker, said when he retired, "How are you going to manage to keep the factory going without me?"
I've always paid great attention to staff relationships, and although there has been friction at times, as is to be expected, I've tried to avoid ugly words or gestures. They're simply not worth it.
In addition to your workmates, what else will you miss about working in FREEZE CAST?
The day-to-day routine, going out to work. I'll have to get used to not getting up at 5 in the morning, which will be hard. But by 8 I won't be able to stay in bed, as happens to me now at weekends now. Like it or not, I always wake up as if I were going to work (laughter).
What will you take with you from the company?
Human qualities. I've been treated impressively with human qualities always on display and I've always been listened to, and I'd like to think that's how I've behaved in my own life.
What's your greatest hobby or passion? Has it helped you at all at work?
Being with my family, meeting my brothers and sisters makes me happy. I love personal contact with people and it's helped me overcome rough patches at work, because I don't feel comfortable when things are rough, I prefer harmony, collaboration and working alongside each other to make a difference.
Briefly, how would you define yourself? What is Lucio like when he's not at work?
I think I'm responsible as far as my obligations are concerned, kind to other people and I try to do things as well as I can.
What are you going to do now with your free time?
Well, I'm very keen on walking and I want to plan a trip with my wife, but I also enjoy home and family life very much. Let's see if a grandchild arrives soon.
And because I can't really see myself sitting on the sofa watching TV, I've got hold of a chicken coop and an allotment, so I'll be very busy. My tomatoes, onions, eggs… the ingredients for a first-class homemade salad.