Good morning, Ignacio. When and how did you begin working as part of this team?
At the end of 2018 I was brought in to cover the temporary absence of a colleague in the Technical Office, and when they came back, I was offered the chance to continue working in Models. I spent six months there learning how the models are made which are later used in the casting of the pieces. Following that time, I returned to the Technical Office, where I still work. This is my first job.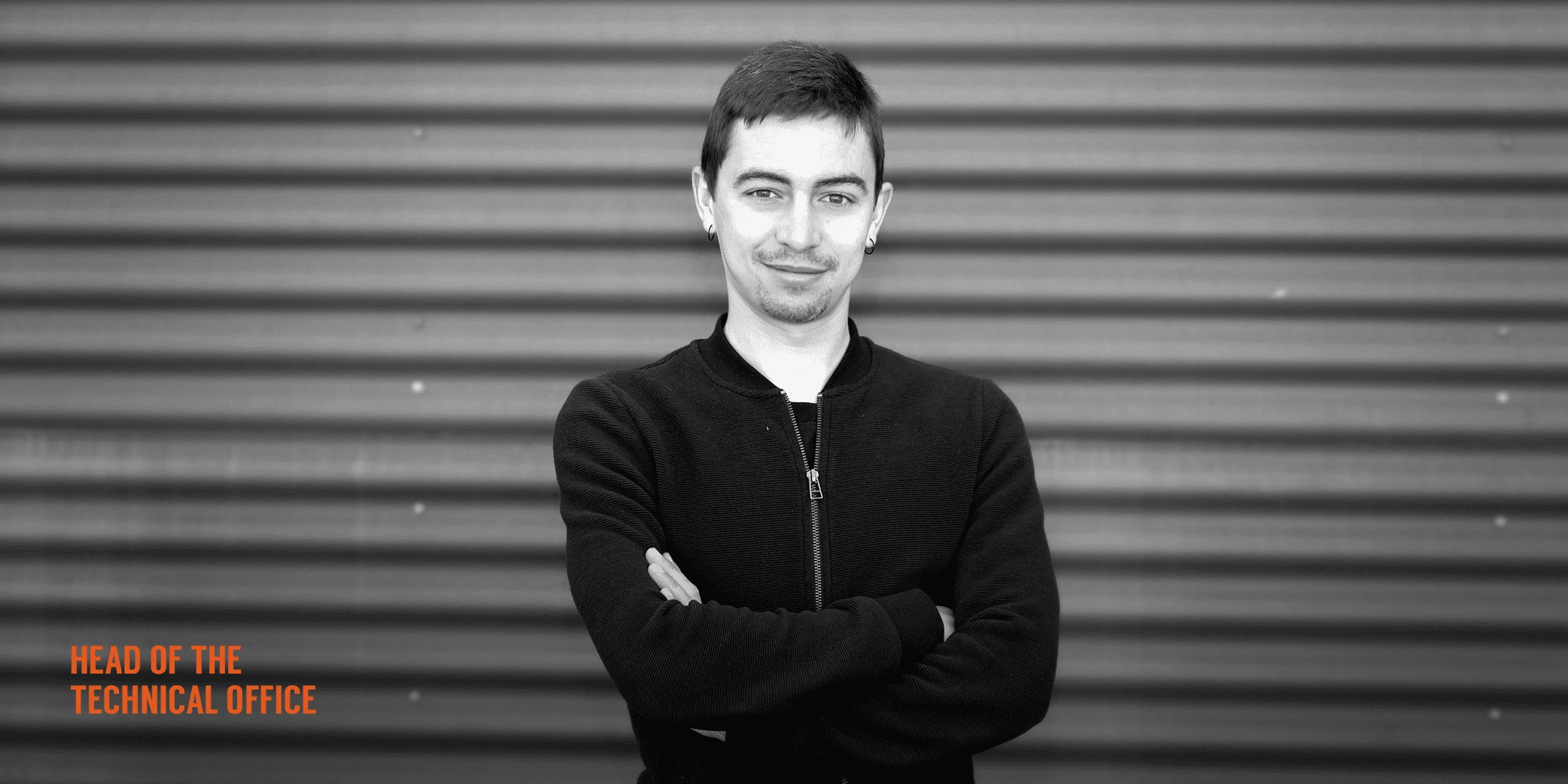 Could you tell us about your career path in the company over these three years?
Working in FREEZE CAST has been, and continues to be, a learning process. I have been able to get involved in different production areas and I have been given greater responsibilities as time has gone by. I am very grateful for the trust placed in me and for being allowed to develop as a professional.
What tasks do you carry out in the company? What exactly is your job?
I work as a designer of 3D models and pieces and I carry out measurements and analysis of possible deviations with regard to nominal measurements or 3D files. To do that, I carry out the digitisation of the pieces by means of scanning and 3D laser measuring equipment and set the result against what would be its theoretical design. The advantage of using 3D scanning technology over conventional measuring equipment is that it allows to compare curves in areas of difficult access, measuring over specific points and also to obtain a colour map with the deviations of the complete piece; something very useful and practical for dimensional checking and studying.
There are projects in which we have to replicate used pieces, whether because they're excessively worn or because they've been damaged, and for that I am entrusted with digitising these pieces and redesigning new models faithful to the original, while repairing those defects that could exists in the new 3D design. This process is known as Reverse Engineering.
We also have programs to simulate the casting process which detect potential defects during the cooling of the pieces. I carry out the simulation of the theoretical piece and if there is a risk of defects, I can amend the initial design to look for alternatives with these problems by amending the geometry of the piece. It can also be used to optimise designs by adjusting thickness or height of non-critical zones, thus economising on production.
Another of my tasks is to prepare Mechanisation plans when it is necessary to include pre-mechanisation stages during the production of our pieces to guarantee their quality.
Why this field, the Technical Office?
Ever since I started to study, the subjects related to technical drawing and technology were my favourites and caught my attention.
It's a department that covers lost of aspects of production and it never becomes boring. I like the fact of being able to design something and then have the final piece to analyse, to participate in the beginning and end of its production.
What do you think has been the biggest change in Freeze Cast in your specialist field? What developments do you foresee over the next few years?
I think the implementation of 3D technology has helped a lot in production. It is used from the initial phase, when being able to use CAD and CAM tools allows you to work directly on 3D models instead of having to imagine everything from plans and views; up to the complete checking and verification of the final pieces. It's a great step forward that has had a very positive repercussion on the manufacture of pieces, improving times and precision.
I imagine the different phases of production are going to become more and more automated. Machines and tools evolve on a daily basis and they are much more autonomous and reliable. This makes the production process so much more precise and also safer for the operators. For example, people tell me how casting was done years ago, and the difference with regard to current methods is very large: it's much safer to control the crucible remotely than to have to hold it and turn it manually, which is what used to happen.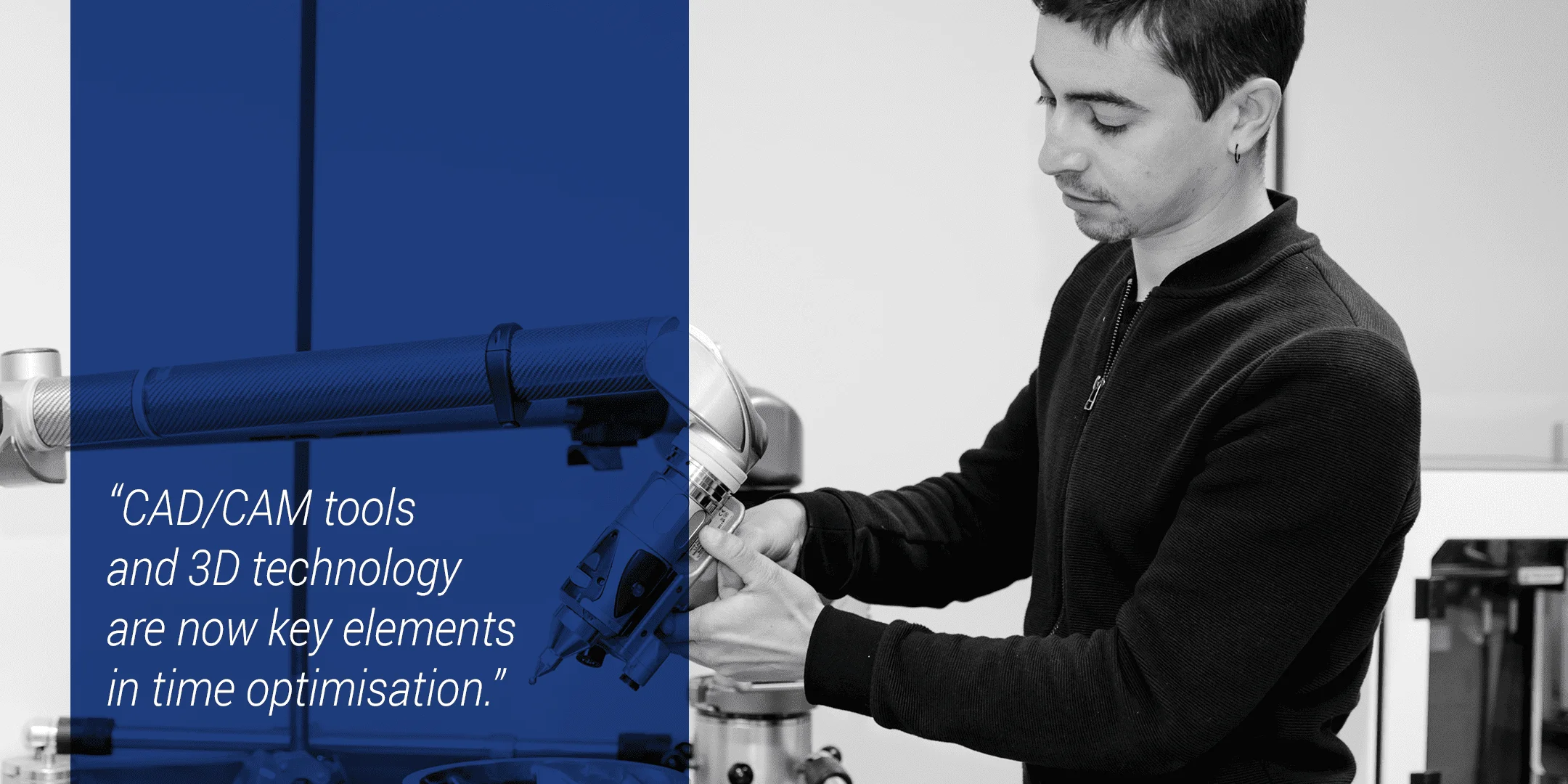 How did you become interested in an industrial career? Would you encourage young people to work in this field?
Of the options I was looking at, it was the most attractive with regard to content and the one that looked like it had most job opportunities, so I chose this route. I would encourage young people who are thinking about a future in the industrial field to carry on and to keep it very much in mind. It's a necessary field and it's growing all the time. Although it's necessary for each person to keep up with research and improve their professional skills, at the same time, it gives a feeling of reward and progress.
And talking to Nacho as a person now, what is your greatest hobby or passion? Has it helped you at all at work?
I'm 24 years old and I enjoy sport very much, especially cycling. I participated in competitive road cycling until two years ago and then I realised the importance of perseverance. I suppose this helps me at work and helps me to face and solve problems. I also like reading and listening to music.
Briefly, how would you define yourself? What is Nacho like when he's not at work?
That's a difficult question… I think I'm a calm and curious person, but I can't just sit still and do nothing. I'm always on the lookout for small challenges to motivate me in my day-to-day life.
Thank you for your time, Nacho.